QuickFix is a modular system designed to replace the structure of "Post and donuts" or "Stacking Style" construction used with 3.75" tilt pin bare board fixtures.
QuickFix is a direct replacement for existing Bare Board Grid ET systems without modification or additions.
QuickFix provides a rigid structure with assured parallelism and position of the fixture plates.
QuickFix is available in all common sizes.
QuickFix modular rail segments interlock to each other to form a complete side of the fixture.
QUICKFIX PARTS LIST AND DESCRIPTION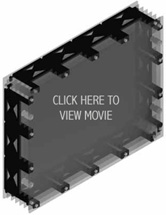 QuickFix U.S. pat. 5,939,892
FAQ
(frequently asked questions)
Download detailed step-by-step instructions
The instructions and fabrication drawings are Adobe Acrobat *.pdf files. Click on the Adobe Acrobat icon to download and install the Adobe Acrobat viewer before downloading the instructions and frabrication drawings.

QUICKFIX INSTRUCTIONS.pdf
QUICKFIX PLATE STACKUP REV.A.pdf